Botox, filler, anti-wrinkle, Sculptra®, Profhilo®, PDO threads, BBLs, Kim K, what's it all about? We don't have much to do with the last two, but we can definitely help explain the rest. It can all be a bit much to take in, with the array of information and photos on social media, especially if you are new to cosmetic injectables or just trying to explore some options. We've put together this post to help with the overwhelm and explain cosmetic injectables so you can feel informed about your choices.

What are cosmetic injectables?
A cosmetic injectable is any aesthetic treatment that is injected by a qualified doctor or nurse. This includes anti-wrinkle injections (such as Botox®), fillers, Profhilo®, Sculptra® and threads. These treatments are used for different reasons but most often to reduce fine lines and wrinkles, and also to subtly restore features such as lips and cheeks. They can be suitable for older patients, looking to treat lines and sunken facial features, but also for younger patients in their 20s, 30s and 40s as a preventative measure.

Which cosmetic injectable is right for me?
Ultimately, that all depends on your current skin and what you hope to achieve. We have explained some of the most popular options and what they are used for below, but the best way to work out what is right for you is always to speak to an experienced doctor or nurse.

Anti-Wrinkle Injections
These cosmetic injectables most commonly use the Botulinum toxin, which basically stops our muscles from being overactive. You may have already heard of Botox®, which is just a brand name of this particular type of injection. In Australia there are other registered brands such as Dysport® and Xeomin® which are equally safe and effective. You can learn more about this in our
previous blog post here
. These types of anti-wrinkle injections are most effective on those muscles in our face that do a lot of moving such as our forehead and around our eyes when we express emotion. So as a general guideline, when treating or preventing fine lines, we divide the face into two at the eyeline. We use anti-wrinkle injections for the top half. These treatments are multitaskers and can also help with excessive sweating and jaw clenching! You can read more about this in our
previous blog post here.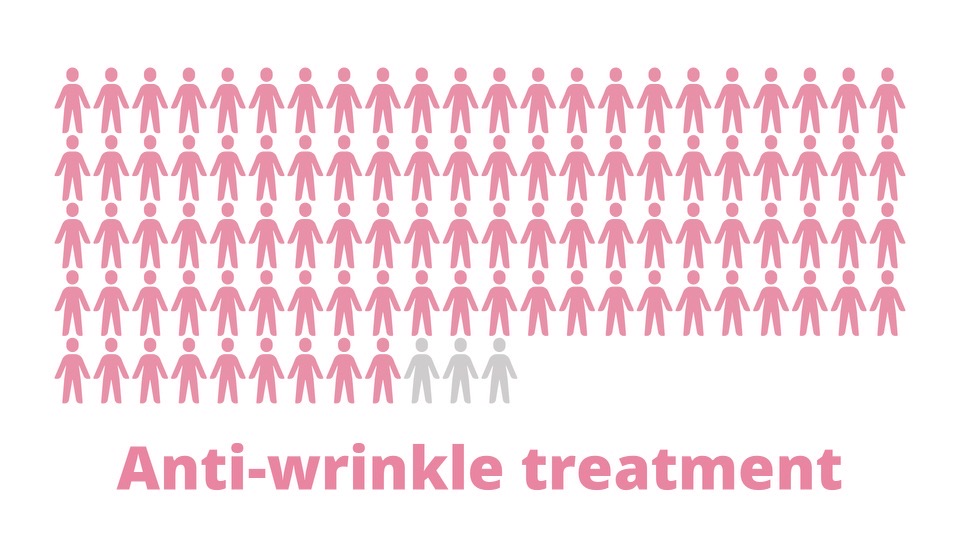 Research conducted by RealSelf found 96% of patients believed their anti-wrinkle injections to be worth it.

Dermal Fillers
When treating fine lines below eyeline, we generally tend to use dermal fillers. As we age, these areas of the face tend to lose their fullness and elasticity, so we need to replace that lost volume. Dermal fillers are commonly based from hyaluronic acid, which occurs naturally in the skin to hydrate, plump and add volume. Dermal Fillers can also be used to restore the volume of lips. Port Medical Aesthetics believes in helping our clients with a natural look, using small, subtle treatments and without over-enhancement.
Profhilo
Profhilo® is a unique injectable treatment that works as a moisturiser beneath the skin. Profhilo® is a highly concentrated hyaluronic acid gel formula, and when injected under the skin provides long-lasting and slow release hydration and stimulation of collagen production. Profhilo® acts to hydrate and rejuvenate the skin from within, reducing visible signs of ageing and creating a natural glow.
Threads
Whilst these are not a liquid or gel, PDO Threads are still considered a cosmetic injectable as they are placed under the skin by an experienced doctor or nurse. These dissolvable threads are carefully placed under the skin and work to instantly tighten and lift, and have the dual effect of stimulating collagen production as they dissolve.
Sculptra®
Port Medical Aesthetics can also provide Sculptra® as a treatment option. Sculptra® is the brand name of a biostimulator, which is injected under the skin by a doctor and helps your facial tissues to regrow and tighten. Sculptra® contains a poly-L-lactic acid (PLLA) base, which works as a collagen stimulator. Rather than immediately filling the area, Sculptra® helps restore the deep, underlying structure of the skin to diminish facial wrinkles over time by stimulating collagen production. It's an excellent treatment for those who aren't ready for filler, and want to rebuild their lost volume naturally. It works best on a thinner face with some sagging of the tissues, or anyone who wants to rejuvenate the lower face without over-volumising.
The best way to know what treatment is right for you is to consult with an experienced cosmetic doctor or nurse. The team at Port Medical Aesthetics are passionate about what we do and helping people feel good in the skin that they're in. If you're interested in any of these treatments or would like to learn more, we'd love to chat with you!